While most people at the moment are preparing for Christmas Im preparing for 2012. Im not a great fan of Christmas and therefore I dont do any Christmas crafting, although I have been know to make the odd Christmas card for a select few!
This time last year I was scanning the internet for projects I could do / follow during 2011 and I found the likes of Project 12 and Photography A-Z both of which I started and then failed miserably at finishing. I was so disappointed in myself for not keeping up with these but life never ever goes the way we think it will and I just didn't have the time or the heart to complete them.
This year I have decided that for 2012 I am not taking on any projects. I am going to do what I can when I can that way I put no pressure on myself to complete things. That said I do want to record my family's year somehow and while blog-hopping recently I found this inspirational post from Emily Pitts.
The overall size of her album was too small for what I wanted so I adjusted things slightly to suit and so my finished album measures 6¼" x 6¼". The paper range I used is Crate Paper Farmhouse which I got in my My Creative Scrapbook kit back in October. Its a fabulous collection and lends itself to so many uses.
I started with some kraft cardstock and a few brown cardstock scraps and made the accordion pages:
This is the front of the accordion insert which I decorated:
Next I made the wrap-around cover. Now for the confession!  I actually stuck the cover on upside down so that the larger flap was on the wrong side  but by the time I realised it was stuck firm and I was not about to try to rectify it! So the cover unfolds from the wrong side – but hey, variety is the spice of life!
Here is the finished front cover. See what I mean about opening the wrong way ?  I still think it looks fabulous though.
A cute little 2012 tag attached to the ribbon with a jump-ring:
Inside on the left hand flap is the quote 'Don't forget the little things, they're the one's that mean the most'
Another pic of the front of the accordion section:
Each month of the year is allocated a double page. On one page the pocket contains two tags which I will stick snapshots to. On the other page the pocket contains a 5"x5" card which is my 'Graffiti Wall' this is where I will record the goings on for that month, things I want to remember (or forget as the case me be!) and stick ephemera to.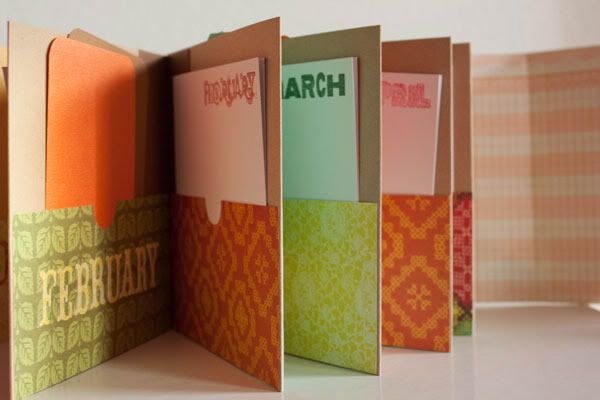 I have kept the inside quite plain and simple. I want to be able to record each month quickly and easily without too much need for decoration and embellishment which I have done in previous year's albums.
And finally the back cover:
So I am all set for 2012 – bring it on!!
Thanks for stopping by,
Hugs
Dee
xx